Asphalt Sealcoating & Blacktop Striping in Portland, Oregon
Oregon: CCB LIC# 202226
Washington: LIC# JZSTRSS864DK
Bonded & Insured for $1 MillionTel:
503 975 6677 or 503 753 2925
info@jzstripingsealcoating.net
Trust JZ Striping & Seal Coating, LLC with your asphalt seal coating and blacktop striping needs in Portland, Oregon. Our professionals will provide a flawless finish for all your asphalt needs.
Professional Sealcoating
Asphalt sealcoating is to protect the asphalt on parking lots or drive ways and make looks better seal for the asphalt that protects your investment from wear and tear, rain, and all the harsh chemicals leaking from vehicles. Our professional sealcoating services provide a seal that you can rely on.
Prep work is done before any work is done on any job site, such as thoroughly sweeping, mass removal, gravel removal, and we use high pressure blowers.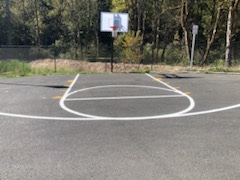 Professional Striping
Once your asphalt or concrete is down, we can come and do the striping, including placing symbols, letters, game codes, school, playground, fire lance access, and signage. The sealcoat is applied to protect your parking lot from the weather some chemicals. The crack filling is heated to seep into cracks and provide a more effective seal.
The service is done in two sessions; first to apply the sealcoat, and the second step your asphalt area is striped. You'll need to stay off the striping to allow it to dry and cure; the paints we use are either water- or oil-based.
Other Services Provided:
• Parking Lot Signs
• ADA Signs
• Crack filling
• Wheel Stops (Concrete, Plastic or Recycled Rubber)
• Pressure Washing (When It's Needed)
Schedule an estimate today for quality Asphalt Sealcoating and Blacktop Striping in Portland, Oregon and Southwest Washington.